Artist Cynthia Lait at the Bainbridge Library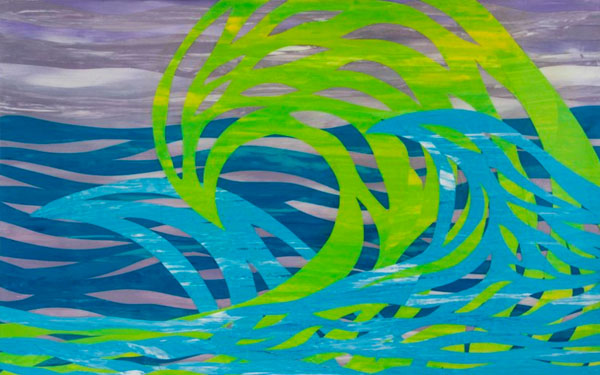 "Headed for Shore" by Cynthia Lait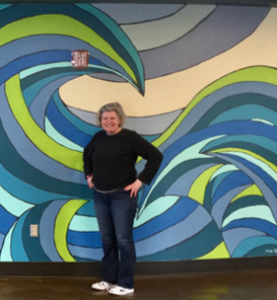 Curious about the artist behind the new murals in the ferry terminal? Meet Cynthia Lait when her new exhibit opens at the Bainbridge Island Library on Friday Evening, April 5th.
Ever since Cynthia Lait can remember, she's been creating art. From drawing horses as a child, to rising early as a young mother to get some studio time before getting her kids off to school and herself to work to her current situation of having her studio set up the way she likes it, Cynthia likes to be creative.
She took the occasional art class in high school, but when it came time for college she chose to become a chemical engineer, a degree that informs her creativity process more than one would think. With her children now grown she now has time for a more serious studio practice.
She's inspired by nature; memories of a walk in the woods, playing at the beach. She's inspired by movement; the changes in color and shape as an object moves. And she's inspired by patterns; the evident and not-so-evident, the beginnings, middles and endings.
For her collage work she paints Japanese papers with vibrant colors then cuts, arranges and re-arranges these pieces of paper until it resonates. She likes the definition of the clean edges so that the work takes on more graphical style.
Come meet Cynthia at the Bainbridge Library when her show opens Friday, April 5, from 5:30 to 7 pm. For more of her work, visit http://www.cynthialait.com.
Credits: BCB Host: John Fossett; BCB audio editor and publisher: Diane Walker; social media: Jen St. Louis.
---