Podcast: Community Cafe:
Bainbridge Police Chief Hamner shares views on community policing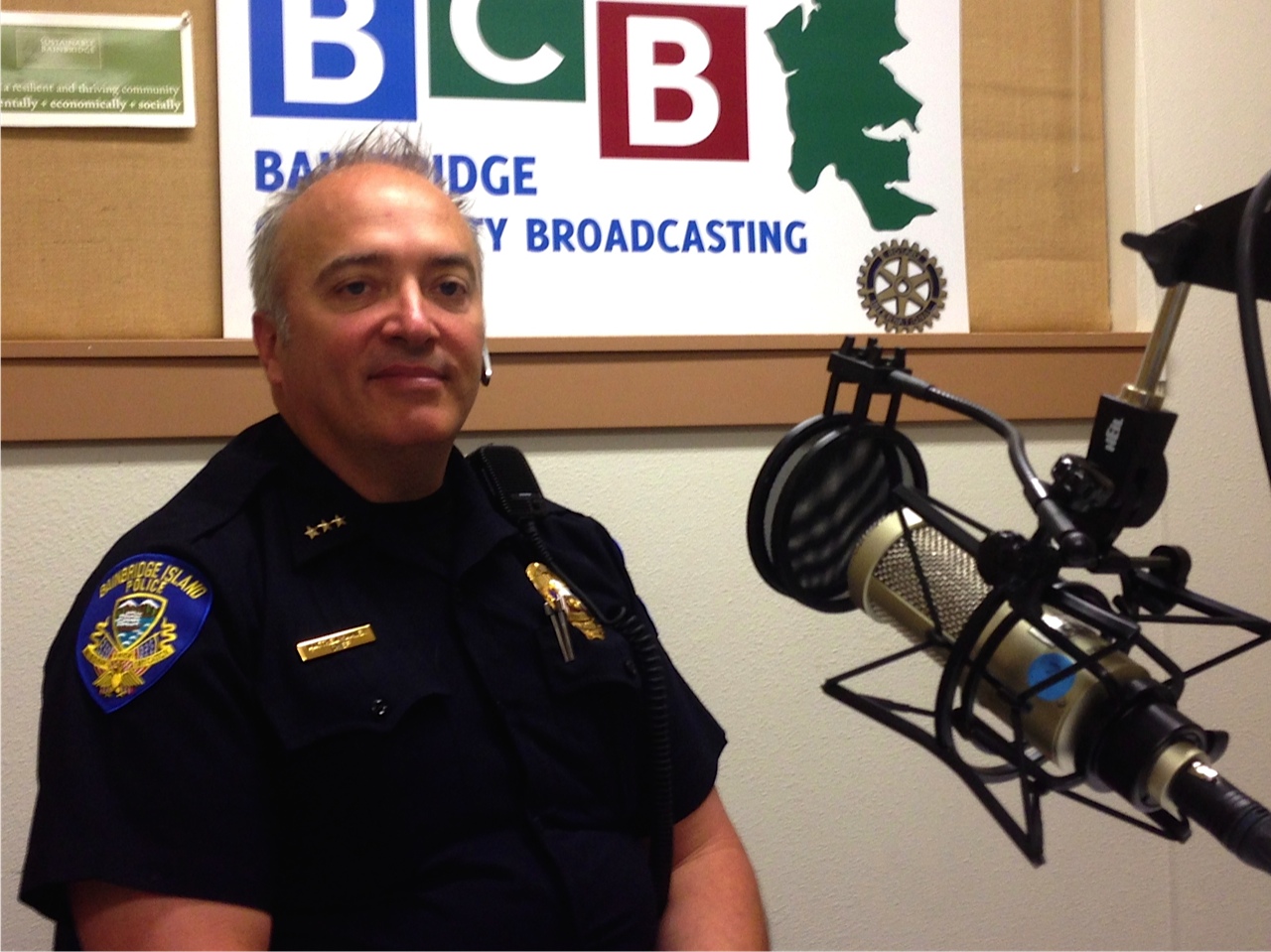 Fifteen months ago, the City of Bainbridge Island swore in new Police Chief Matt Hamner.
In this 29-minute podcast interview, BCB's Barry Peters explores in detail with the Chief the policing needs of our community, and how the Chief sees the issues that pertain to community policing for Bainbridge Island.
The interview is an open, personable and candid conversation with Chief Hamner and explores many current issues facing the City, the Chief and the police department.
The questions answered by Chief Hamner in this Community Cafe conversation are:
Looking back on 15 months as Chief in Bainbridge, what is a favorite memory  0:45
How are you doing on your goal of building community trust for the police department 1:30
When you applied for the job, what were your initial impressions of Bainbridge as a community 2:44
Do you see a sense of community among Bainbridge residents 3:50
What are your comments on Officer Ziemba's nomination for a crisis intervention award 5:28
How did you cope with staffing challenges — 4 retirements and two injured officers with limited duty 7:45
What do you look for in an applicant for the Bainbridge police department  9:01
What does "community policing"mean for your department 11:56
Is it about officers being on bike and on foot? 13:45
How do Bainbridge policing and crime rates compare to Mercer Island 15:36
What are the factors that shape how many police are needed for Bainbridge 17:58
Do we have an officer specializing in relationships with the schools?  19:22
How many police officers should Bainbridge have?  20:54
What is the status of the effort to create a more adequate police headquarters building 22:02
What is a good model for citizen feedback, oversight and citizen advice?  23:54
What were the goals when hiring a Deputy and a front desk person for the public 27:30
If a resident wants to give feedback to the Chief, how should they contact you ?  28:10
Thanks and extro 28:38
Credits: BCB host and editor: Barry Peters; BCB intro music: Tim Bird; BCB ferry music: Dogfish Bay Studios; BCB podcast art: artopia creative.
---
---