Podcast: Community Cafe:
Solar panels – Never a better time to make a financially and environmentally smart decision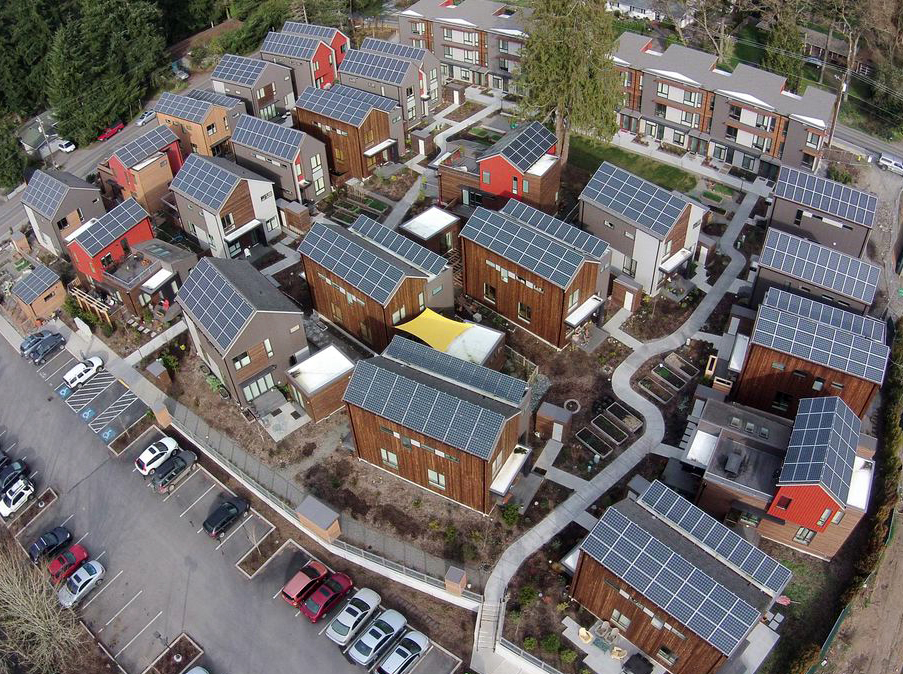 In a podcast interview recorded on Earth Day (April 22, 2015), experts on financing and installing solar panels explain why there has never been a better time for homeowners or business owners to install solar panels on their rooftop.
Our guests explain that you can both counteract climate change AND save money with a relatively quick payback period.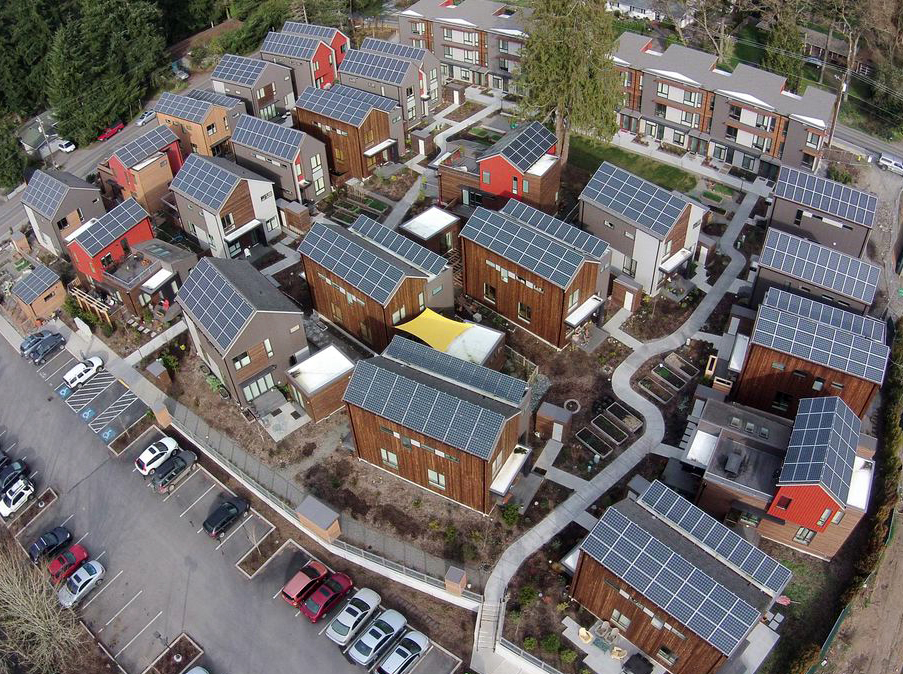 In this interview, we meet Anders Hellum-Alexander, a representative from solar panel installation company A&R Solar, and Shannon Ellis-Brock, chief operating officer from Puget Sound Cooperative Credit Union.  Our third guest is Kellie Stickney, the community engagement specialist from the City of Bainbridge Island.
Our guests were on their way to the dedication of an array of newly installed rooftop solar panels at the City's Waterfront Community Center, where Puget Sound Energy funded the project as an award for the Bainbridge community's high rates of adoption of PSE's "Green Power" Program. PSE, on its solar power advice page, notes that more than 1,500 of its customers have installed solar in recent years.
A&R Solar installed panels at Waterfront Community Center, and also at the Grow Community, which has solar on 100% of the neighborhood roofs and has won several awards for its green buildings.
This 25-minute podcast provides details of the many financial and technical advantages that are now available for owners considering solar installations:
availability of low-interest loans (currently, as low as 4.25%) from the Credit Union for the full amount of the project, with up to 15 years to repay
simple flexible terms on Credit Union loans, often with same-day decision-making
Washington State incentive payments that pay a property owner as much as 54 cents for each kilowatt hour produced by panels and inverters made in Washington
waiver or reduction of state sales tax on solar installations
federal tax credit that currently reduces the overall project cost by 30%
WA state "net metering" allowance lets you credit surplus solar energy to days in the year that are less sunny
new types of inverters make panels effective on rooftops that are partly shaded
significant decline in the price of panels in recent years; and
greater efficiency of installation techniques.
BCB is advised that another company that has experience installing solar on Bainbridge Island is Cascadia Solar, serving Jefferson, Kitsap and Clallam Counties.
Credits:  BCB host, editor and social media publisher: Barry Peters.
---
---