Podcast: Community Cafe:
City and high school students make it easy for us to donate socks to the homeless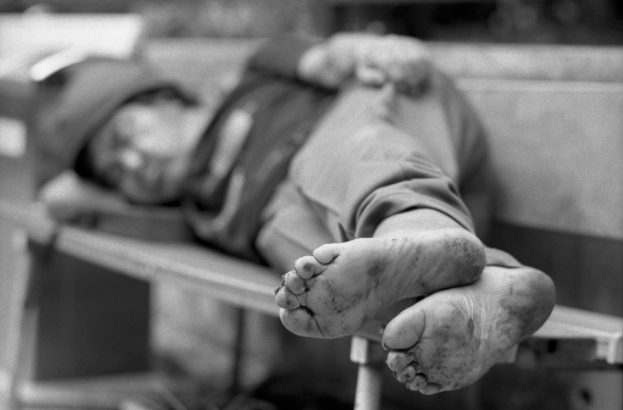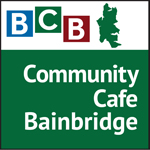 In this 18-minute community podcast for this holiday season of generosity, we meet a high school student leader, a City employee and a street ministry volunteer who have made it easy for you to donate dry, clean, warm socks to the nearby homeless folks who need them in this wintry weather.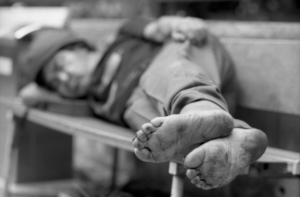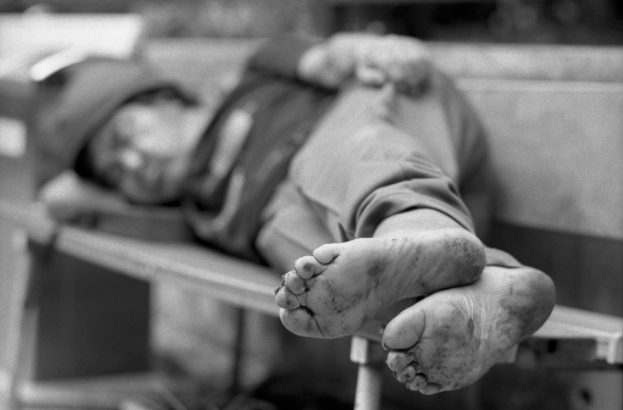 Their "Boxes of Socks" donation program enables you to bring socks — either new or freshly laundered — to metal drop-off boxes that look like blue newspaper stands in numerous locations like:
Bainbridge Island City Hall
the Bainbridge ferry terminal
Island Fitness, south of City Hall
Wildernest, on Winslow Way
Buckley & Buckley Real Estate, in Winslow Green, or
Harley-Davidson in Silverdale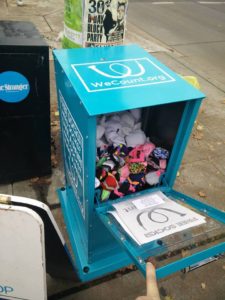 The idea was hatched during a recent conversation between the City's Communications Manager Kellie Stickney and Steve Rhoads.
As you'll hear on this podcast, Steve is a competitive cyclist and local volunteer for fundraising for good causes like Helpline House and Housing Resources Bainbridge. Steve has ministered to street people for the past four years, and knows their needs first hand as a formerly homeless person himself.
Joining our podcast conversation is Julia Gray, who is the student president of the Social Justice League of Bainbridge High School. She and her fellow students have focused their generosity this year on a series of activities for the homeless. For example, she and her fellow students have traveled to Compass House in Seattle to help provide warm meals to the downtown homeless. Her Social Justice club is asking for your help in reaching their goal of 1,500 pairs of donated socks this season.
For further information about donating, contact Kellie Stickney at the City of Bainbridge Island. The program is working in cooperation with a Seattle nonprofit called WeCount. Click on the image below for a 3-minute video showing how the "Boxes of Socks" program gets your donated socks to those who need them.
WeCount is a Seattle based 501c3 organization founded by tech entrepreneur Jonathan Sposato and community activist Graham Pruss. Using web and smartphone technology, WeCount.org enables people experiencing homelessness to ask for items they need to survive, and enables the community to make direct donations on a hyper-local basis. WeCount also works closely with social service organizations to help people transition out of homelessness permanently.
Credits: BCB host, audio editor and social media publisher: Barry Peters.
---