BIPD National Night Out and K9 Whitney in Winslow August 6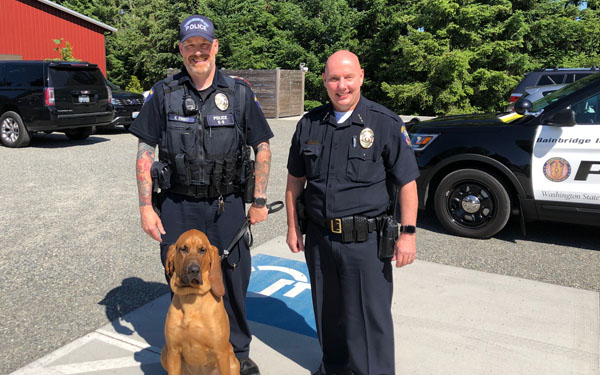 Officer Kurt Enget (l) with K9 Officer Whitney and Chief Horn



Games! An inflatable slide! Obstacle courses,  a "Touch-a-Truck" area with police, fire, city, and FBI vehicles — this year's National Night Out event is sure to be a crowd pleaser! Learn more about this exciting event and its co-sponsor, K9 Officer Whitney.
In this podcast Interim Police Chief Jeff Horn joins Officer Kurt Enget, who is responsible for BIPD's new K9 Officer, Whitney. Chief Horn is here to tell us about the National Night Out, a free, family-friendly event put on by the Bainbridge Island Police Department August 6th from 5-8pm at Waterfront Park.
One of many such events across the country, the National Night Out is designed to build positive relationships between law enforcement and local communities. Come and enjoy plenty of activities and food for the whole family, and meet our local police officers in a relaxed, community setting. For more about the event, visit https://www.bainbridgewa.gov/134/Police .
Listen here as Officer Kurt Enget then shares some of his experiences working with K9 Officer Whitney. You'll learn how K9 Whitney tracks missing people, what her training is like, and why BIPD brought her on board.
This podcast is part of a series of podcasts featuring Chief Horn.  If you would like to send in a topic or question for him to address in our next interview with him, please visit BIPD's facebook page or contact Carla Sias, Community Resource Officer, at csias@bainbridgewa.gov.
Credits: BCB host: Christina Hulet; audio editor and publisher: Chris Walker.
---