Podcast: Bainbridge Island Specials:
Island Theater reads for radio: "Dear Editor" (Part 1 of 2)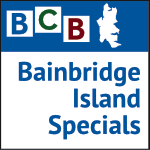 This first show in the new podcast series of BCB Bainbridge Island Specials is a recording of Part 1 of "Dear Editor: Letters to the Bainbridge Island Review," by the cast of Island Theater. The letters were gathered by Kathleen Thorne and compiled for this production by Steve Stolee.
This rendition is a documentary for radio recorded on March 1, 2015 at the BCB Studios, and it was also presented to a live audience in February 2015 at the Bainbridge Island Public Library.  The performance is part of the Island Theater's 20th anniversary season.
This 2-part recording is read aloud by the following Island Theater cast members:
Diane Bankart
Charlie Hamilton
Debbi Lester
Fred Saas
Tell Schreiber
Pat Scott
Diane Walker
The Director of the production for Island Theater was Tell Schreiber.
In this 40-minute part 1, there are three segments, each separated by a brief musical interlude:
Segment 1: A burst of short excerpts from various letters
Segment 2: Letters from years prior to World War II, as far back as 1928
Segment 3: Letters from the era of WW II and the exclusion of Japanese Americans from Bainbridge Island
Part 2 is a separately published podcast and includes letters from the post-war era through the 1970s.
Credits: BCB producer, editor and publisher: Barry Peters
---