Podcast: Bainbridge Island Specials:
2018 Poetry Corners Live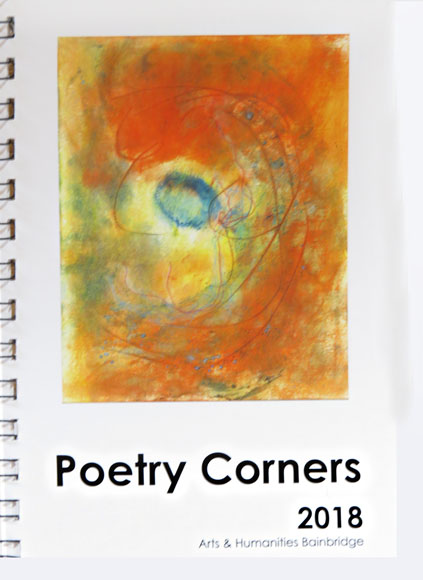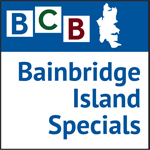 From senior flirting to downward dogs and runaway beets, no subject is off limits to Bainbridge poets when invited to submit their favorite works with no theme to inhibit their creativity!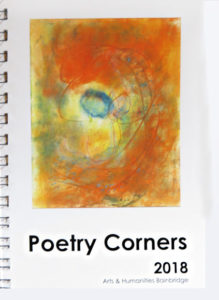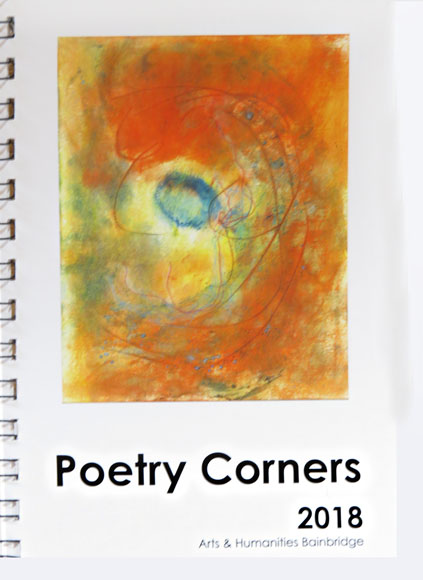 Every year, in April,  local poets submit their poems to Arts & Humanities Bainbridge for posting in island storefronts in honor of National Poetry Month, and each year at the end of April the winning poets gather to read their poems aloud.
This year BCB was on hand on Wednesday, April 25th, to record Poetry Corners Live, an event hosted by Arts & Humanities Bainbridge at the Bainbridge Island Museum of Art. This year's lack of theme — a conscious determination on the part of the judges — resulted in a broad range of poems: some short, some long; some humorous and some deeply moving; some remembering loss and others full of hope.
The lucky folks who listened to this event heard some truly magnificent work — and now you can enjoy it, too! Listen here, and enjoy a flavorful blend of island creativity. For more information, or to purchase a Poetry Corners 2018 chapbook with Karen Chaussabel's colorful image, "Surrendering to What Is" on the cover, visit the Arts & Humanities Bainbridge website or stop by their office in the Marge Williams Center on Winslow Way West.
Credits: BCB audio tech: Finn Mander; audio editor: Jeff Wenker; social media publisher: Diane Walker.
---