Podcast: Who's On Bainbridge:
Chris Snow shares anecdotes about his two Bainbridge decades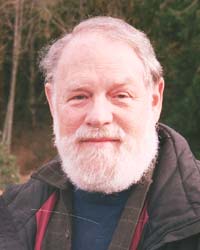 In this 15-20 minute episode of Who's On Bainbridge, Chris Snow shares anecdotes about what brought him to Bainbridge from his lifelong career in the US Foreign Service, what has kept him here for so long, and his leading role in community life since he and his wife Cameron settled here in the late 1990s.
Chris speaks with BCB host Jack Armstrong about:
what attracted him and Cameron to the island;
how he became engaged in community organizations;
his leading role on the board of the Bainbridge Island Museum of Art (BIMA) during the years of building and starting up the museum;
his service with the Bainbridge Community Foundation (BCF) and the importance of philanthropy to our community's many nonprofits;
his 2006 to 2009 term on the Bainbridge Island City Council
memories of speaking engagements at the "Oatmeal Breakfast Club"; and
his thoughts about what makes Bainbridge special.
Chris was interviewed in the BCB studio in late March 2015.
Credits: BCB host: Jack Armstrong; BCB editor and social media publisher: Barry Peters.
---
---