Podcast: What's Up Bainbridge:
Bloedel musical event May 10th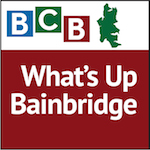 Experience the Intimate Music Series at St. Barnabas. Their core group of musicians includes Amy Duerr Day on oboe, Patricia Strange on violin and Patricia Beasley on clarinet with Samuel Brodsky on piano—as they share an evening of rich and lyrical chamber music within the historic and award-winning gardens of Bloedel Reserve.
Featuring compositions by Franz Schubert, Bela Bartok, Joao Camacho, Richard Cumming, Robert Sibbing, Felix Mendelssohn and Darius Milhaud, the concert celebrates spring in bloom among the rhododendron and tranquil landscape.
---
HOW TO PLAY THE PODCAST RADIO SHOW:  Click the PLAY button (above) to hop on the BCB ferry for a listen to our podcast radio episode, which tells the story of the May 10th musical event at the Bloedel Reserve gardens in the north end of Bainbridge Island.
---
Learn more about the Intimate Music Series and other events at Bloedel Reserve here: http://www.bloedelreserve.org/event-calendar/special-events
In this "What's Up Bainbridge" podcast radio episode, BCB host Annie Osburn interviews musicians Amy Duerr Day and Patricia Strange about their Mother's Day concert at Bloedel Reserve. From Bartok's "Roman Polka" to Cumming's "Springfield Mountain" and Schubert's "Entr'acte from Rosamunde," the program promises a diverse repertoire.  We stretched this podcast episode to a little over 6 minutes in order to provide samples of the group's music.
For more information, please visit blodelreserve.org. Doors open at 7pm, the concert begins at 7.30pm. Tickets are $18 for members and $21 for non-members.
For more information about the Intimate Music Series/Chamber Works group, which is co-sponsored by Ovation! Musical Theatre Bainbridge, please visit ovationmtb.com.
Credits:  BCB Post-Production Editor: Dave Bristow.  Ferry/music intro: Dogfish Bay Studios. Synthetic music splash: Dave Bristow. BCB Host: Annie Osburn
---
---