Podcast: What's Up Bainbridge:
IslandWood Mothers Day event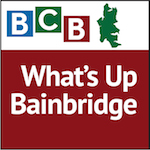 For Mothers Day on Sunday May 11th, IslandWood — the environmental learning center on Bainbridge Island — hosts a celebration of mothers.
The 1pm event starts with an illustrated talk on how nature's species care for young.
The talk shows that – from the deepest oceans to the leafy treetops – mothers of all species are caring for their babies with dedication and courage.  It's a celebratory look at the lives of wild animal mothers and the work they do to nourish, teach and protect their young.
Then, the afternoon includes a stroll on the forested grounds and a return to the dining hall for a satisfying tea with savory and sweet treats.  The afternoon ends at 4pm.
In this podcast, IslandWood event organizer Christina Doherty talks with BCB's Barry Peters.
For more information: http://islandwood.org/event/natures-nurturers-celebration-mothers

Credits:  BCB Post-Production Editor: Jeffrey Powel.  Ferry/music intro: Dogfish Bay Studios. Synthetic music splash: Dave Bristow.  BCB Host: Barry Peters
---
---