Podcast: What's Up Bainbridge
Library May 9: Business as benefactor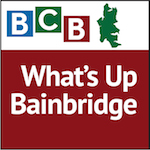 In this 5-minute podcast, BCB's Caroline Clarke interviews guest speaker Mal Warwick, from Berkeley CA.
Our interviewee  is the co-author of "The Business Solution to Poverty: Designing Products and Services for Three Billion New Customers."
He is visiting Bainbridge Island as a guest of Bainbridge Graduate Institute and is also delivering a Friday evening "BASE" talk to the Bainbridge community. For the second year running, the BASE lecture series of periodic talks by outstanding visiting speakers is about Building a Sustainable Economy.
This latest BASE lecture takes place at the Bainbridge Island Library on May 9th from 5:30pm to 7pm.
Refreshments are provided. No charge.
The BASE series of talks is a partnership of Bainbridge Graduate Institute, Bainbridge Island Chamber of Commerce, Sustainable Bainbridge, and the Bainbridge Public Library. The series is supported by a grant from Bainbridge Community Foundation.
---
---