Podcast: What's Up Bainbridge:
Antiquarian book collecting at Library May 17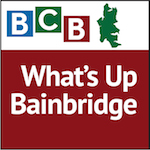 Collecting – is it a passion or an obsession?
Find out in the three-part "Library U" series on Collecting Books and Fine Art aptly titled, "Collecting: The Unruly Passion," presented by Bainbridge Public Library.
At 10am Saturday May 17th, Bob Fortner will address part 1 of the series, focusing on rare, out-of-print and antiquarian books.
In this episode of "What's Up Bainbridge," BCB host Annie Osburn interviews Bob Fortner, former owner with his wife, Nancy, of Fortner Books. Their book business was for many years in downtown Winslow and then moved to their Bainbridge Island home at Sweetlife Farm.
Join Fortner on May 17 for the first of the three-part Library U collecting series. Fortner brings his years of experience as a rare book dealer to the table and how it took boots on the ground and a lot of  sleuthing to build his rare, out-of-print and antiquarian book collection. Fortner shares  what makes an antiquarian book valuable, how to find rare books and how to care for your collection.
Learn more about Library U and the three-part course, "Collecting: the Unruly Passion," here: http://www.bainbridgepubliclibrary.org/library-u.aspx
Library U is a new program offered by Bainbridge Public Library. Courses are free. More information can be found at www.krl.org.
Credits: BCB Interviewer Annie Osburn; BCB Audio Editor Tim Bird; BCB Ferry/Music Intro: Jeffrey Powel of Dogfish Bay Studios; BCB What's Up music splash: Dave Bristow.
---
---