Podcast: What's Up Bainbridge:
Professional pointers for teen writers at Library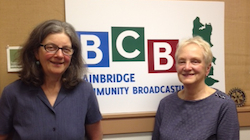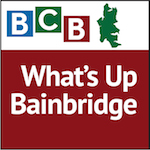 Teens who want to write have been engaging in their own writing group at Bainbridge Public Library.
Local writers Margaret Nevinski and Barbara Clarke have been mentoring students in grades 7-12 on a weekly drop-in basis. The last gathering is May 19th, after school, at 2:00pm. These two local writers, and Teen Librarian Stefanie Graen, have met weekly with interested students in the community room.
For teen writers who want to continue to explore their writing, the same two teachers will offer a Teen Writing Camp, July 14-17, at Bainbridge Library.  Space is limited, sign up starts June 2nd at the Library or via email to Teen Librarian sgraen@krl.org. For ages 12-18. Also see: www.fieldsend.org
When asked how she benefits from the weekly teen writing group, Margaret said: "Teens are especially interesting because they're on the cusp of adulthood, with one foot still in childhood. They're skeptical, they're questioning, but they haven't lost their enthusiasm and wonder."
Margaret Nevinski is a published author whose books for young adults are available at the Bainbridge Public Library, located at the corner of Madison and High School Road. For more information about Ms. Nevinski, visit her web site.
Barbara Clarke — the author of "Getting to Home: Sojourn in a Perfect House" — chose to make the island her home. She revealed that she didn't come to writing until later in life and wished that she'd had the advantage of someone like Margaret in her life when she was a teen.
In this five minute podcast, both women speak enthusiastically about the free weekly drop-in classes that that they offer during the school year and the joy they get from mentoring budding writers. Both are community volunteers.
For more information about the camp, visit the Library's web site.
Credits: BCB Interviewer Barbara Golden; BCB Audio Editor Tim Bird; BCB Ferry/Music Intro: Jeffrey Powel of Dogfish Bay Studios; BCB What's Up music splash: Dave Bristow.
---
---