Podcast: What's Up Bainbridge:
Boater's Fair Saturday June 14th In Waterfront Park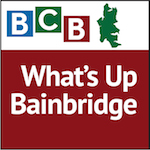 The Bainbridge Island Police Department is celebrating Welcome to the Water on National Marina Day on Saturday, June 14 from 11 am to 4 pm. The event is free and will include fun activities for water and boating enthusiasts of all ages.
In this podcast, BCB's Barry Peters interviews Tami Allen of the Bainbridge Island Police Department about the Marina Day and Boater's Fair celebrations on June 14. Tami is the City's Harbormaster.
Matthew Hamner, Chief of Police, says: "I encourage families to participate in this fun outdoor activity and give boating a try." He adds, "We hope you will visit Waterfront Park to learn about boating, and enjoy the events we have planned."
The City of Bainbridge Island's Welcome to the Water on National Marina Day activities include:
Free demonstrations of Current Design Kayaks and Wenonah Canoes
Tours on a 45-foot US Coast Guard Cutter,
Tours of a Bainbridge Island Police Boat and a research vessel
Flare demonstration
Meet local boating clubs and aquatic program leaders
Learn about underwater repair for docks and moorings
Race a remote controlled sailboat
Bring your own boat and get your annual vessel safety inspection
Bring your own boat and "anchor with a local" (by appointment)
Learn about docking, cruise planning, navigation, fueling, pumping-out, knot tying taught by the USCG Auxiliary volunteers
"Water N' Kids" activities
Meet your Harbormaster and Marine Officer
Come for a free boat ride and BBQ hot dog (while supplies last)
National Marina Day is presented on Bainbridge in cooperation with the Association of Marina Industries, and Discover Boating. For more information visit www.nationalmarinaday.org, or call Tami Allen, Harbormaster at 206.780.3733.
Credits: BCB Host and Audio Editor: Barry Peters. Ferry/music intro: Dogfish Bay Studios. Music splash: Dave Bristow.
---
---