Podcast: What's Up Bainbridge
Author Suzanne Staples on June 19 shares the power of story at BIMA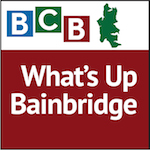 Margaret Chang of Field's End returns to the BCB studio for an interview with Channie Peters about an event featuring award-winning author Suzanne Fisher Staples. Staples will give an illustrated talk describing how she has used the power of story to inform her readers of the Islamic culture, especially the lives of women and girls.
As a former journalist and USAID representative in Afghanistan and Pakistan, Staples immersed herself in the culture of those countries.  She has been a tireless advocate for literacy for women and girls in the region.  Her first three novels are set in the Cholistan Desert between Pakistan and India, and give us a realistic view of the life of women and girls in Islamic culture.
Staples' talk will be on Thursday, June 19, from 7 to 8 PM at the auditorium of the Bainbridge Island Museum of Art at the corner of Winslow Way West and Hwy 305. It will be followed by a reception next door at the Bainbridge Bakers cafe.  Eagle Harbor Books will have available for sale several of her books, including Shabanu, her first novel, which won a Newbery Honor.
Credits: BCB Host: Channie Peters; Audio Editor: Tim Bird.  Ferry/music intro: Dogfish Bay Studios. Music splash: Dave Bristow.
---
---