Podcast: What's Up Bainbridge
Cruise Around Bainbridge July 20 on steamship Virginia V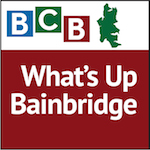 Back by popular demand, the Virginia V – the last of the Mosquito Fleet steamships – will cruise around Bainbridge Island on July 20th from 3 to 6pm.
Fully-restored, pipes and whistles prepped and shined and her engine ready to roll, the Virginia V will leave from City Dock in Winslow, directly south of Waterfront Park. Take a gentle cruise around the island as the steamer passes by more than 30 former ferry landings that served Bainbridge at different times in the community's development.
Suquamish Historic Preservation Officer Dennis Lewarch will also be on board to highlight the shoreline areas frequented by indigenous people and discuss the geology and archaeology of Bainbridge.
In this episode of "What's Up Bainbridge," BCB host Annie Osburn interviews Karen Beierle, board member and volunteer of the Bainbridge Island Historical Museum. Listen to Beierle highlight fun facts about the 125-foot Virginia V (a National Historical Landmark Steamship built in 1922) and the famed Mosquito Fleet, a predecessor to the Washington State Ferries system.
This event is a fundraiser for Bainbridge Island Historical Museum and includes a box dinner, ferry landing map and cruise program, bottled water and no host bar (operated by the Virginia V Foundation – www.virginiav.org).
Learn about the Virginia V Cruise around Bainbridge Island at www.bainbridgehistory.org.
Credits:  BCB Host Annie Osburn; BCB Audio Editor Tim Bird; BCB Ferry Music: Dogfish Bay Studios; music splash: Dave Bristow.
---
---