Podcast: What's Up Bainbridge:
Saturday July 18th Family Art Day at Art Museum and Kids Museum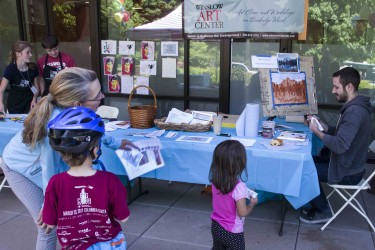 Kristin Tollefson, Education Director of Bainbridge Island Museum of Art (BIMA), and Susie Burdick, executive director of the Kids Discovery Museum (KiDiMu), talk with BCB host Channie Peters about the third annual Family Art Day, coming up on Saturday July 18th from 10am to 4pm.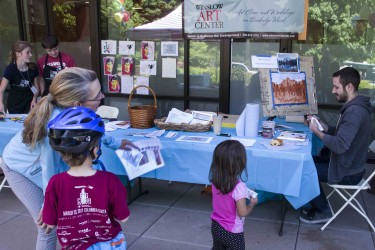 Kristin and Susie describe a fun-filled collaboration between the two museums located at the Island Gateway Plaza for Family Art Day.  There will be performances by: Bainbridge Performing Arts Theatre School Summer Camp, Kohala Hawaiian Dance Group, and the lively band Ranger and the 'Re-Arrangers'.  Activities will include (but are not limited to) a self-guided scavenger hunt, and a book-signing and more very cool art activities with BIMA artist Pierr Morgan.
And there will be family-friendly menu items for sale at the BIMA bistro (at least as fabulously tasty as last year!)
This event is sponsored by the A.Y. Petter Family Advised Fund at Kitsap Community Foundation, the Leslie & Michael Lebeau Philanthropic Fund at Bainbridge Community Foundation, and the Bainbridge Community Foundation.  Other community co-sponsors are Bainbridge Island Metro Park & Recreation District, Bainbridge Performing Arts (BPA), Bloedel Reserve, Bricks 4 Kidz, Coates Design Architects, KitsapArt – School of the Arts, Kitsap Regional Library, and Paper Products.
Island Gateway Plaza is located at the corner of Winslow Way and Highway 305, just a short walk from the ferry or downtown Winslow.
For more information about exhibits and activities at these two attractions, visit BIMA's website and KiDiMu's website.
Credits: BCB host: Channie Peters; BCB editor and social media publisher: Barry Peters.
---
---