Podcast: What's Up Bainbridge
BI Parks and Rec celebrates 50th birthday bash Aug 29 at Battle Point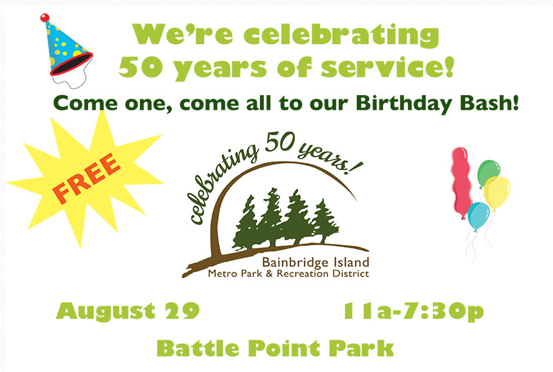 On Saturday August 29th at Battle Point Park, beginning at 11:00am, Bainbridge Island Metro Parks and Recreation District will host an all-day Birthday Bash to celebrate its Fiftieth Anniversary.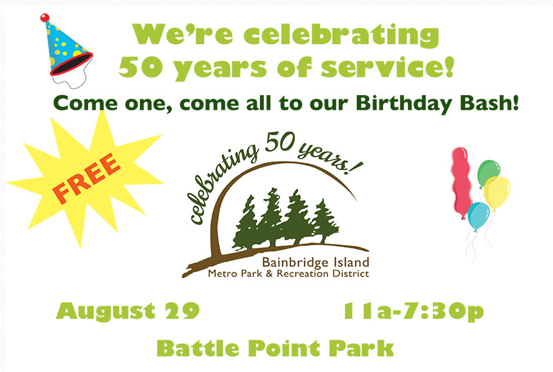 In this podcast Lori Quick-Meija, Community Outreach Program Manager of BI Parks and Rec gives BCB host Joan Sutliff the inside scoop on this exciting family-friendly event.  Activities at the party will include community booths (there is still room for for non-profits and others to participate, hint, hint) with hands-on activities, classic cars, a childrens' bike rodeo, mainstage entertainment, and a giant birthday cake!
The main stage will be located next to the Observatory; entertainment onstage will include demonstrations of swing dancing, cheerleading, break dancing and more.  From 2pm to 7pm the family friendly bands Johnny Bregar, Whozyamama, and Mutha Knows Best will perform. There will also be food and a beer garden.
Come join the fun on Saturday, August 29th and get a piece of giant birthday cake! The event is free, but participants are encouraged to bring donations of school supplies to benefit Helpline House's backpack program.
Virginia Mason Bainbridge Island Medical Center is the generous sponsor of the Birthday Bash. Additional details about the Birthday Bash can be found on the Parks Department website: http://www.biparks.org/biparks_site/aboutus/fifty-years.htm.
 Credits: BCB host: Joan Sutliff; studio tech: Barry Peters; audio editor: Finn Mander;  publishers Diane and Chris Walker.
---
---