Podcast: What's Up Bainbridge:
Museum of Art presents artists' exhibits for March to June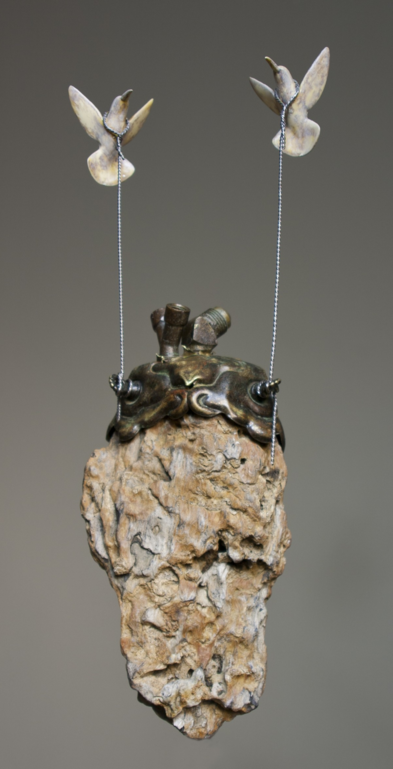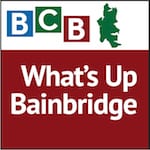 In this 12-minute podcast, Greg Robinson, Executive Director & Curator of Bainbridge Island Museum of Art (BIMA) talks about the newly installed exhibitions for BIMA's spring shows. The theme is "Journeys", and this rotation will be on display from March 12th to June 5th.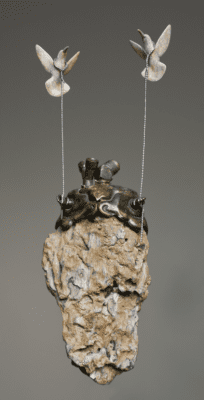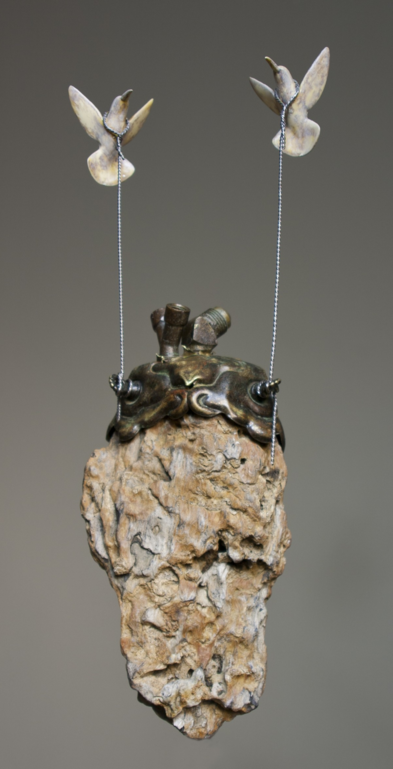 The group show addressing ideas and experiences surrounding personal journeys has themes ranging from travel and fantasy to personal loss and other life changing events. The artists featured in the group show also have solo shows in the art museum. These artists are: Marita Dingus, Denise Harris, Steve Jensen, Phillip Levine, Susan Lowrey, Ann Morris, Steve Parmelee, and Kay Walsh.
A visually-stunning 27-foot tall, site-specific mixed-media doll, made of recycled hot-tub covers and other found objects, by Marita Dingus, hangs in the Beacon Gallery. It is visible from outside to passing pedestrians and motorists on Winslow Way, or it may be viewed from inside the museum's large corner window.
Steve Parmalee's "Assemblage" finds the sacred in the discarded, and he succeeds in transforming found objects and materials into works of art. Steve Jensen's "Boats" is a selection of Jensen's sculptural boat paintings in the bistro gallery.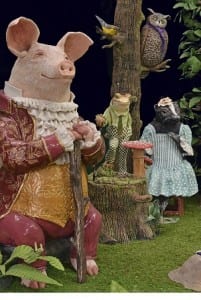 By popular demand, "A Story Place", the amazing ceramic installation by artist Nancy Thorne Chambers is being extended through the spring. Come into the museum and experience the magical place and essay contest for all ages (old enough to write). Also featured are newer donations to BIMA's collection, including mixed-media glass sculptures by Robert Carlson.
2016 Island Treasure award winners Denise Harris and Cameron Snow will be exhibiting in the Garden Gallery, featuring Harris' mixed media sculptures, and Snow's hand-painted porcelain plates and cups.
BIMA's exclusive, unique and extensive collection of Artist's Books is in its seventh rotation, this one titled "Form and Content". While artist's books are most often exhibited in library galleries, it is rare in the US to find a gallery dedicated to permanent collections of these works of art in the form of multi-dimensional books. Listen to BCB's illuminating podcast interview of Cynthia Sears, museum founder and collector of the artist's books displayed in the Sherry Grover Gallery at BIMA.
As further described here, BIMA is located at the corner of Winslow Way and Hwy 305. It is open daily from 10 a.m. – 6 p.m., and is free of charge to the public. There is a bistro and a museum shop featuring unique art and crafts from the Puget Sound region.
Credits: BCB host: Channie Peters; BCB audio editor and social media publisher: Barry Peters.
---
---