Podcast: What's Up Bainbridge:
Squeaky Wheels hosts "Bike for Pie" on Sunday Aug 7th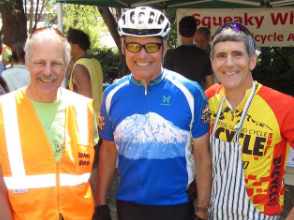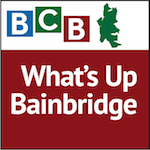 On Sunday August 7th it will be the time for that popular annual local tradition for cyclists of all ages, called Bike for Pie.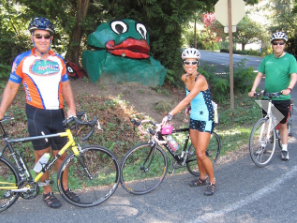 In this 12-minute podcast, meet three bicycling enthusiasts from the island's longest standing bicycle advocacy group, Squeaky Wheels, as they describe the annual Bike for Pie bicycling event for the whole family that attracted 470 participants last year — 350 adults and 120 youth.
BCB volunteer – and Squeaky Wheels board member – Peter Harris introduces us to club president Ross Hathaway and treasurer Bruce Bachen.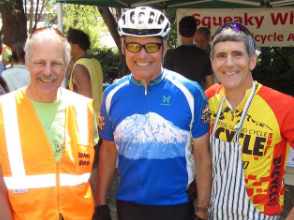 On event day, on Sunday August 7th, you can sign-in as early as 8:30am, and no later than 10:30am. Each participant chooses either the family-friendly route or the longer challenge route for cycling enthusiasts.
Home base for starting and ending your ride is the central green between BPA and City Hall (the site of the Bainbridge Farmers Market). For cyclists returning from their bike rides, pie is served from 11am to 1pm.
During those hours of pie eating, music will also be served up by the popular local band called "Ranger and the Re-Arrangers", whose music is a cross between what you might hear at a spirited Parisian cafe and a gypsy campsite.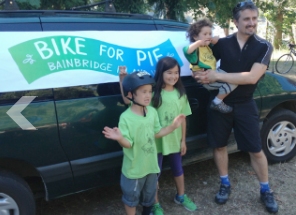 Sign up now, by the end of the day on Monday August 1st, and receive a discount on your registration for the event.
Or, you can register through the day of the event at the BikeforPie.org website, where more details about the event and the routes can be found. Or send an email to info@SqueakyWheels.org
Fourteen local businesses are supporting this popular event this year.
According to Ross, the local homemade fruit pies promise to be "pure ambrosia", but, considering the exercise you'll get, Ross's tagline for the event is "Slim Your Thighs and Bike for Pie!".
Credits: BCB host: Peter Harris; BCB audio editor and social media publisher: Barry Peters.
---

---
---