Podcast: What's Up Bainbridge:
"Kindred Spaces: The Performance" at BIMA September 8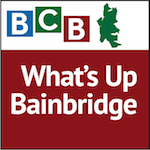 In this episode of What's Up Bainbridge, artist Amy D'Apice returns to the BCB Studio to tell us about her upcoming presentation, "Kindred Spaces: The Performance." This Bainbridge Arts and Crafts event will be held at Bainbridge Island Museum of Art September 8th at 7:00pm.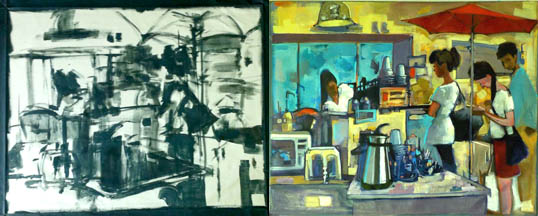 Amy lives and makes art in Thailand. She has a great fan base in the US and has been on Bainbridge Island this summer offering workshops and showing her art. As a traveler she is always on the lookout for scenes that may be common across cultures and she says part of her creative process is taking something that is messy and try to make it into something that is beautiful.
In "Kindred Spaces: The Performance", Amy has created a multimedia presentation to talk about the "creative process,"melding music, art, and storytelling to cover lots of topics in the process of creating art.
This presentation was inspired by her blog, Art Conspiracy, [http://artconspiracy.net/blog/] where she shares with her audience not only what she is working on but also the process toward completing, or not, the art work.  To her surprise, Amy learned that her fans love to hear about that process. Amy says "It's a messy process and it's not perfect" but having insight into what an artist goes through is apparently fulfilling to artists and non-artists alike.
Not only will Amy's presentation entertain and teach us about the creative process, but in removing the mystery from the artist's experience she helps bring us to a new understanding of the work itself.
For more information on this event and how to get tickets, please visit http://bacart.org/exhibitions/future-exhibitions/
http://bacart.org/kindred-spaces-the-performance/
Credits: BCB host: Sonia Scaer; BCB audio editor: Chris Walker; social media publisher: Diane Walker.
---

---
---