Podcast: What's Up Bainbridge:
Eagle Harbor Books hosts environmentalist author on Sunday January 22nd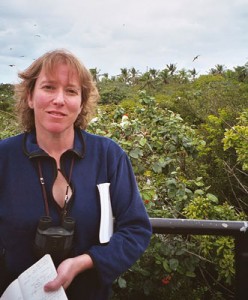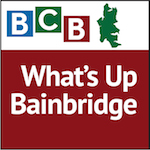 In this 12-minute podcast, Adrienne Ross Scanlan talks with BCB host Channie Peters about her personal story of discovering "that home isn't simply where you live but where you create belonging, by repairing the nature that is close to our lives." Her new book is: "Turning Homeward: Restoring Hope and Nature in the Urban Wild".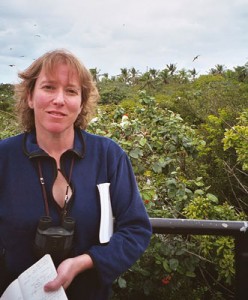 Adrienne will be at Eagle Harbor Books on Sunday, January 22nd at 1 pm. She'll not only read from her book, but also talk with Islanders about what adverse environmental impacts we see in our landscapes, shorelines and areas of natural beauty, and what we as concerned citizens can do about those impacts.
In this podcast, she explains, for example:
why stormwater runoff from streets and hard surfaces is so harmful to shorelines and marine life; and
how a simple solution like a "rain garden" at home or in public spaces can make such a valuable difference.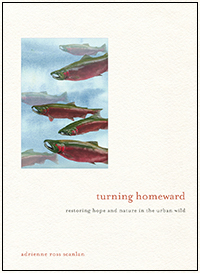 Adrienne is an award-winning writer, and an environmentalist who has spent many years as a citizen scientist. She has: monitored salmon runs for county and local agencies; served as a restoration volunteer salvaging native plants and removing invasive weeds; and worked as a docent at Woodland Park Zoo in Seattle and Wolf Haven in Tenino, Washington.
Her book is a story of "place," including all of the places near her Seattle home where she has been devoted to caring for the nature that she loves. Each chapter is a different public location where she has spent many hours weeding, counting salmon, hunting for queen bees. In each endeavor, she has increased her understanding of the impacts of urbanization on our environment, and on how to mitigate those impacts.
"Turning Homeward" is particularly well-suited for book club discussions, and a 20% discount is available for book club purchases. It is beautifully written but also substantive, and relatively short (150 pages). The book also provides excellent resources for individuals and communities who want to engage in environmental restoration and citizen science.
Credits: BCB host: Channie Peters; BCB audio editor and social media publisher: Barry Peters.
---

---
---