Podcast: What's Up Bainbridge:
Birds and Bees at BAC February 14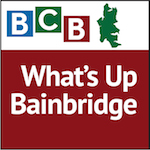 Listen in for a good giggle as IslandWood naturalist Christina Doherty tells BCB's Channie Peters and BAC's Georgia Browne all about the Birds and the Bees in this amusing podcast.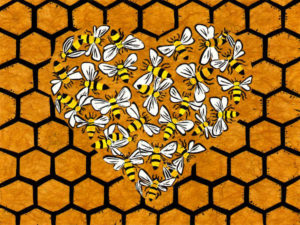 What's Love Got to Do With It? Here's the scoop: Bainbridge Arts and Crafts is celebrating the Birds and the Bees in February, featuring works by some of your favorite local artists in a variety of mediums.
In preparation for Valentine's Day, assemblage artist Diane Haddon will help gallery visitors make Valentine Pins on February 4th.
But for their headline act on Valentine's Day, the Gallery has invited IslandWood naturalist Doherty to give a talk entitled "What's Love Got to Do With It?," on the reproductive patterns of various species of plants and animals.

So, for an amusing and entertaining evening, start your Valentine's Day activities at 6 with wine and snacks at the Gallery, then from 6:15 to 7 whet your appetite for romance with exciting tales of the mating habits of a variety of species. Afterwards, take time to browse the exhibits, then head out to dinner at one of our fabulous local restaurants, and voila! A perfect Valentine's Day!
If you do plan to attend Christina's talk, please call the gallery (842-3132) to let them know you are coming: you'll want to be sure to get a seat for this amusing treat!
Credits: BCB host: Channie Peters; BCB audio editor and social media publisher: Diane Walker.
---

---
---