3rd Annual KiDiMu Mini Golf Masters September 27&28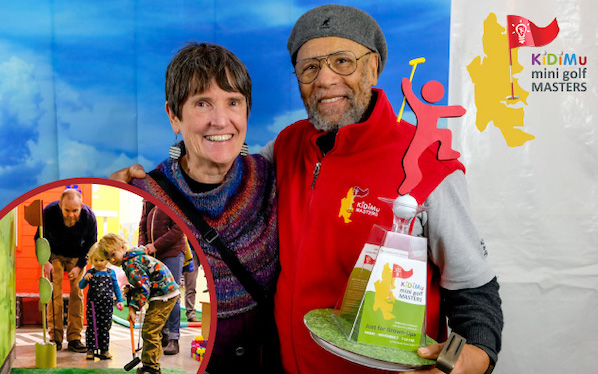 An 18 hole mini-golf course in a Museum? What could be more fun! Come join the festivities at Kidimu's Third Annual Mini-Golf Masters, scheduled for Friday and Saturday September 27 and 28.
The whole family can get involved with golfing. There are two ways to play: "Just for Grown-Ups" happens Friday evening, September 27, from 6:30-10 pm. Register in advance at kidimu.org for $100 per person to enjoy indoor golf, hors d'oeuvres, beer, and wine, bid on Silent Auction times and have fun and laughter in the clubhouse tent.
On Saturday, September 28, all ages are welcome for the Family Fun Day, 10 am to 4 pm. Enjoy a round of mini golf and family fun for $8.00 per person (ages 12 and under) and $10.00 (ages 13 and over). Just drop in; no RSVP is required. Sparkson Photography will be on hand both days with a complimentary photo booth to capture all the excitement.
Listen here as Corinne Wolffe, the Kids Discovery Museum's new development director and Krzysztofa McDonough, communication and marketing director, fill us in on the details of these fun events.
For more Information or to register, visit kidimu.org or call the Museum at 206-855-4650.
Credits: BCB host: Diane Walker; audio editor and publisher: Chris Walker.
---