Peter Shaffer's Lettice and Lovage opens at Rolling Bay Hall October 11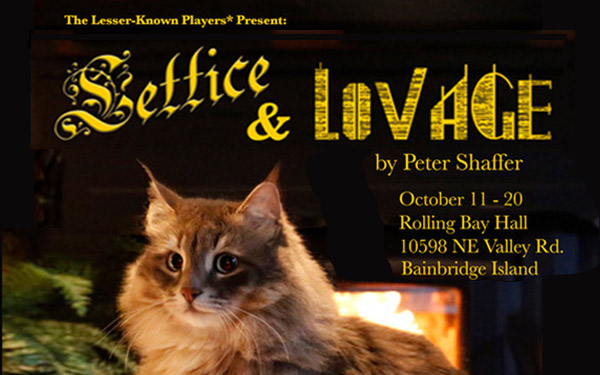 What happens when a tour guide with a vibrant imagination has to show off an incredibly boring mansion? The Lesser Known Players will bring Peter Shaffer's comic masterpiece, Lettice and Lovage, to life on the Rolling Bay stage starting October 11th.
The show follows the adventures of Lettice, an eccentric tour guide at England's least interesting historical manor, who enlarges, enlivens, and enlightens her tours with fantastic and hilariously false tales of the manor's past. But when her straight-laced bureaucratic boss Lotte finds out, the fun – and Lettice's employment – are over. So begins the unlikeliest of friendships in this madcap comedy about truth, fiction, architecture, and the surprising utility of alternative facts.
Listen here as Director Karen Hauser and stars Michelle Peterson (Lotte) and Jennifer Hodges (Lettice) explain how the show came to the Lesser Known Players and what it's like following in the footsteps of Dame Maggie Smith, who won a Tony for her performance as Lettice.
Don't miss this delightfully British comedy! Lettice and Lovage, brought to you by the Lesser Known Players, will run Friday, Saturday, and Sunday October 11, 12, & 13, and again the following weekend, October 18, 19, & 20. The Friday and Saturday shows start at 7:30; Sunday shows start at 2:30. For more information and to order tickets, visit the Lettice and Lovage event page on Facebook.
Credits: BCB host, audio editor, and publisher: Diane Walker.
---