Award-winning musical, Next to Normal, opens January 24 at Rolling Bay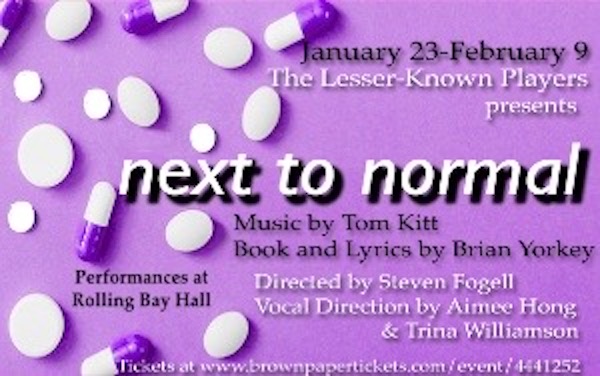 Whatever happened to Happily Ever After? Lesser Known Players is tackling that question with Next to Normal, a rock musical which will open Friday, January 24th at Rolling Bay Hall
Written by Washingtonians Brian Yorkey and Tom Kitt and first shown at the Village Theater in Issaquah, Next to Normal centers on a bipolar mother and the effects of her illness on her husband and children.  Over the course of 2 hours (and over 35 musical numbers), the six cast members explore the daunting challenges of contemporary family life with a Tony and Pulitzer Prize-winning blend of humor and painful honesty.  The script sparkles and the music delights, keeping a tough subject both palatable and entertaining.
In this podcast director Steven Fogell, production manager Dawn Janow, and cast members Sarah Taylor and Henry Beddoe share their experiences and discoveries in presenting this unusual and riveting performance.
Presented by Lesser Known Players, Next to Normal opens Friday, January 24th, 7:30 pm at Rolling Bay Hall and runs for three weekends: Thursdays, Fridays and Saturdays at 7:30 with matinee performances at 3 pm on Sunday January 26th, Sunday, February 2nd and 9th with an understudy matinee performance on Saturday, February 1st.
Admission is $24; for tickets visit BrownPaperTickets.com
Credits: BCB host and audio editor: Diane Walker; publisher: Chris Walker.
---