Bainbridge Stay at Home Companion #3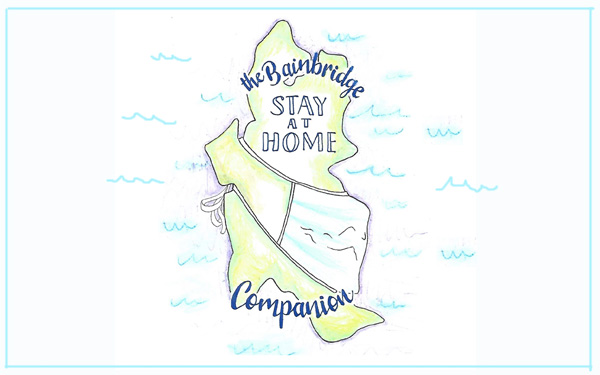 It's time for "It's All Relative(s)," Episode 3 of the Bainbridge Stay at Home Companion, featuring music by Noah Byrd; excerpts from the upcoming Covid Monologues; conversations with island youngsters; and musings from Dan Rosenberg – along with some more useful missives from the folks at Bainbridge Prepares.
This week's "May I Have Your Attention Please" segment, "My Wife's Sister," was written by Miranda Feldtman, and read and riffed on by Chris Soldevilla. These segments are edited by Travis Samson.
Our host this week is Dan Rosenberg. You can learn more about him at danrosenberg.com or watch his comedy special on Amazon https://www.amazon.com/dp/B08526TKC7 , all proceeds from which benefit Bainbridge Performing Arts.
"Are We There Yet?" features the voices of Reece Martine, Ocean Door, Rowan & Lockie Martin, Sera Pryde, and Harlow & Mabel Greene in conversation with Ann Wilkinson-Ellis. This segment, which features the song "Dances with Fireflies" by Nathan Moore  https://www.youtube.com/channel/UCf0rSKiGRyxcuMOyQZUUuIA is part one of an ongoing series; you can hear more by tuning into future episodes of this show.
The Covid Monologues https://www.bainbridgeperformingarts.org/events/covid-monologues selections include a parody song by Kate Pippinger and an anonymous poem submission left on our doorstep at BPA and read for you by series producer, Matt Longmire. Don't miss these and over 20 more original pieces representing life during pandemic and quarantine on Bainbridge Island, to be streamed as a three part series on Fridays May 22nd, 29th, June 5th, at 7:30pm on our Facebook channel https://www.facebook.com/BPAonline/. They will be available afterwards on our website: https://www.bainbridgeperformingarts.org/events/bpapodcast. This selection featured music by Josh Woodward.
The song of the week was written and performed by Noah Byrd. https://www.facebook.com/noahbyrdguitar/
Bainbridge Stay At Home Companion is brought to you by Bainbridge Performing Arts, Bainbridge Prepares, and Bainbridge Community Broadcasting, a community service of BARN, Bainbridge Artisan Resource Network. It is produced by Miranda Feldtman, Matt Longmire, Liz Ellis, Ann-Wilkinson Ellis, and John Ellis.
---