Right Plant, Right Place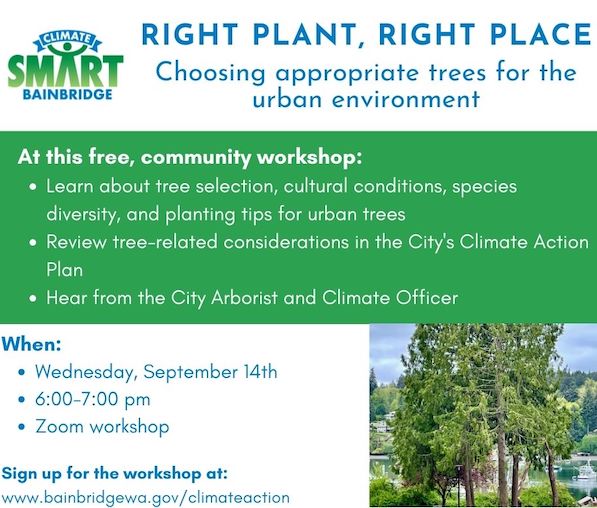 If you're thinking of planting a tree or replacing one on your property, you will want to attend the upcoming Zoom webinar hosted by Autumn Salamack, Bainbridge Island Climate Officer, and Drue Morris, City Arborist. The topic is Right Plant, Right Place: Choosing Appropriate Trees for the Urban Environment, on Wednesday September 14th at 6pm.
In this episode of What's Up Bainbridge, Autumn tells us about the Climate Smart Bainbridge Challenge and the City's Climate Action Plan and tree-related considerations.  Drue explains that choosing the right tree species for the right space will maximize the success of that tree and help it thrive. And she'll tell us what you can expect to learn at their webinar.
You may visit the city website calendar here:
https://www.bainbridgewa.gov/calendar.aspx?eid=4104
You may register for Right Plant, Right Place online here: https://bainbridgewa.zoom.us/webinar/register/WN_BCrLOT14QKu3PRjksFULaw
To learn more about Climate Smart Bainbridge go to:
https://www.bainbridgewa.gov/1359/Climate-Smart-Bainbridge
Credits: Podcast Host Sonia Scaer; Audio editor Keith Doughty; Publisher Robert Ross
---