Podcast: Community Cafe:
From Historic Bakery to Community Hall: The Fort Ward Restoration Project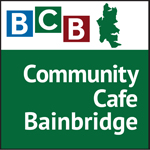 The community of Fort Ward is working together to restore the fort's historic bakery building for use as a community hall and gathering place.

A collaborative effort of Friends of Fort Ward, the Fort Ward Youth Advisory Committee, the Bainbridge Island Metro Park and Recreation District, Kitsap County Sewer District No. 7, and residents of the Fort Ward neighborhood, the project also has the support of the Washington Trust for Historic Preservation.
In this podcast, BCB host and Fort Ward resident Christina Hulet talks with Friends of Fort Ward board president Douglas Crist about the project and the building's history. Listen here to learn more about these exciting restoration plans, the Fort Ward neighborhood, and the key historic role Fort Ward played in WWII.
For more information about the project, visit https://fortwardhall.org/.
Credits:  BCB host: Christina Hulet; BCB audio editor and social media publisher: Diane Walker.
---