Podcast: What's Up Bainbridge:
May 20 workshop on keeping a Journal that Inspires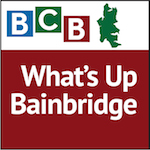 On May 20th, the Field's End Speaker Series will present a workshop on combining art and writing in creating an inspiring journal.  
In this podcast interview, Margaret Chang, coordinator of the Speaker Series, talks about Field's End, the Speaker Series, and this interesting workshop that will be taught by artist Carolyn Terry and writer Sheila Bender.
Sheila Bender is an established author of memoir, poetry, and instructional writing. She has served as a distinguished guest lecturer at Seattle University and taught many writing intensive workshops. Visit her website.
Carolyn Terry has been keeping art journals for over ten years. These private journals provide the inspiration for the multifaceted work she shows in galleries.
The workshop is designed to expand your artful practice, includes prompts and techniques for recording the world through your senses. The speakers believe will explain that there are many ways to keep a journal through the written word and a drawn line.
And best of all – you don't have to be a writer or an artist to enjoy this workshop.
The workshop will be in the Bainbridge Island Public Library community room from 7 PM to 8:30 PM.  It is open to the public and free of charge.  Afterwards, there will be snacks, social time to network with published authors, would-be authors and anyone who is there to learn about creative journal writing.
Credits: BCB Interviewer Channie Peters; BCB Audio Editor Tim Bird; BCB Ferry/Music Intro: Jeffrey Powel of Dogfish Bay Studios; BCB What's Up music splash: Dave Bristow.

---
---