Podcast: What's Up Bainbridge:
Kidimu Birthday Bash June 3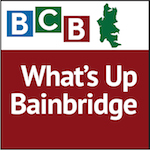 It's Kidimu's 12th birthday, and the celebration — to be held Saturday June 3 from 10 – 2 — is packed with excitement! In this 6-minute podcast, Kidimu Executive Director Susie Burdick talks about Kidimu's fun birthday party traditions and this year's special treats.


This coming Saturday, beginning at 10 am, the fun festivities will include:
10:30 am      Poulsbo Leikarringen – folk dance performance
11:00 am      Bainbridge Performing Arts – Theatre School performance
11:30 am      The Harmonica Pocket – concert
12:15 pm       Island Aikido – martial arts demonstration
12:45pm       West Sound Wildlife Shelter – animal ambassadors program
1:15 pm         Spartronics Team 4915 – robotics demonstration
Family Fun on the Plaza 10 am – 2 pm, with special activities, featuring:
     Bainbridge Island Museum of Art – craft
     Bainbridge Prepares and Ready Raccoon – safety tips
     Boys and Girls Club of Bainbridge Island – face painting
     Fire Truck (1 – 2 ) and Police Car (10 – 2 ) – unless called to action
     KiDiMu – Summer Camp Sneak Preview and Bubbles
                     (in KiDiMu's outdoor space by the Museum)
     Kitsap Regional Library – Bainbridge Island Branch – craft
     Malone Pediatrics – teddy bear clinic
     West Sound Wildlife Shelter – animal ambassadors
And for adults with $10 burning a hole in their pockets, Dr. Brian Kovara from Living Well Chiropractic & Massage will offer 10-minute chair massages for $10 with 100 percent of the proceeds benefiting the museum! Available between 10 and 2.
That's a Some Pizza will host a stand in front of KiDiMu and offer pizza and drinks for sale between 11 and 2.
Free registration will be required for the Fun Walk to receive a commemorative t-shirt. Registration can be made and more information can be found at kidimu.org.
Kidimu thanks Key Bank for being their most generous and open-to-anything sponsor. Susie emphasizes that the best part of this, their biggest, best attended event every year, is the collaboration with so many organizations and businesses in the Bainbridge Island community.
Sounds like a wonderful day for the kids, so bring them down to the Gateway Plaza for the grand birthday celebration!
Credits: BCB host: Channie Peters; audio editor: Chris Walker; social media publisher: Diane Walker.
---

---
---