Podcast: What's Up Bainbridge:
Project Houston helps hurricane victims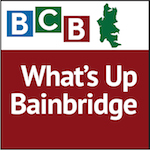 Wishing you could do something to help victims of Hurricane Harvey? In this 5-minute podcast, Diana Brink, office manager of Bainbridge Island's Current Dental, offers the firm's Project Houston as a way to help victims of Houston's devastating hurricane.


After a destructive event such as Hurricane Harvey, there is a desperate need for toiletry items (see list, below). Because Current Dental has connections to Houston they're asking people to bring these items to one of Current Dental's two offices: Diana and her staff will pack them up into individual kits and ship them to Houston Recovers, the City of Houston Disaster Recovery site. Since these are generally low-cost items, anyone, including children, can purchase a few and feel they are genuinely helping desperately needy hurricane victims. For more about how you can help the people of Houston, visit Houston Recovers.
On Bainbridge Island, toiletry items may be taken to the Current Dental office at 213 Madison Ave. N, Suite 100. In Bremerton, their office is at 2625 Wheaton Way, Suite D. For more information, visit currentdental.com.
Requested items include:
Adult and children's tooth brushes
Toothpaste, dental floss and mouthwash
Bar and body soaps
Shampoo and Conditioner
Hand sanitizer
Kleenex (small)
Combs
Bandaids
Nail clippers
Wash cloths
Deodorant
Men's razors and shave cream
Women's razors and shave gel
Feminine hygiene products
Small toys and stickers
Cards and notes for victims
Credits: BCB host: Channie Peters; audio editor and social media publisher: Diane Walker.
---

---
---