Podcast: What's Up Bainbridge:
Fine art collecting is the May 31 talk at the Library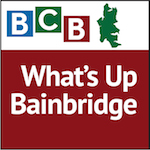 Do you dream of becoming a fine art collector?
Learn how to become an informed and discerning collector of fine and decorative art through the Library U series, "Collecting: The Unruly Passion," presented by Bainbridge Island Public Library.
At 10am Saturday May 31st, Erin Fossum will offer part three of the Library U series, focusing on collecting fine art and the appraisal process.
In this episode of "What's Up Bainbridge," BCB host Annie Osburn interviews Erin Fossum, art appraiser and art history scholar with McAllister/Fossum Appraisal Services based in Seattle.
Join Fossum on May 31st as she shares her well-honed expertise in fine art and demystifies the skill of valuing and appraising your treasures. Find out what to look for when collecting fine art, when to get something appraised and what is involved in the appraisal process.
Learn more here about Library U and the three-part course, "Collecting: the Unruly Passion."
Library U is a new program offered by Bainbridge Public Library. Courses are free. More information can be found here.
Follow Fossum as she explores the art market and collecting in Western Washington on Twitter @appraiseseattle, or visit www.mcallisterfossum.com.
Credits: BCB Interviewer Annie Osburn; BCB Audio Editor Tim Bird; BCB Ferry/Music Intro: Jeffrey Powel of Dogfish Bay Studios; BCB What's Up music splash: Dave Bristow.
---
---