Podcast: Arts and Artists:
Community Artists Series:
Public art returns to Bainbridge with "Tribute Baskets" at the Waypoint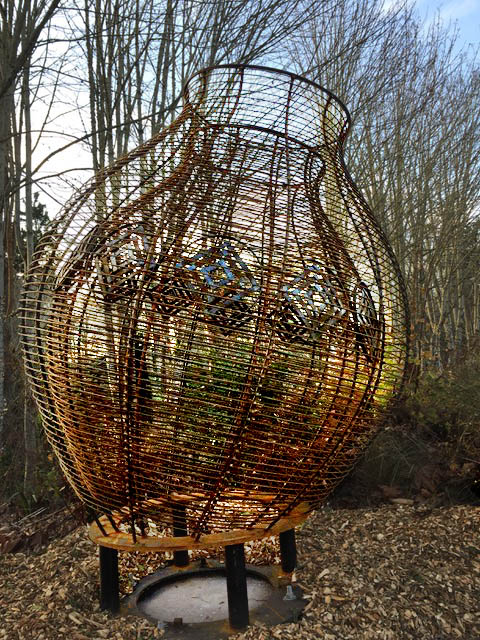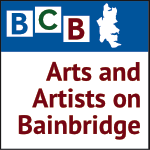 In this Arts and Artists podcast, you can listen to a lively conversation with sculptor Christine Clark who created the beautiful metal Tribute Baskets at Waypoint.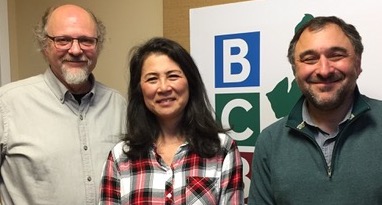 She's joined by Bill Baran-Mickle of the Public Arts Committee, and by Bruce Weiland who coordinated the community effort to bring Waypoint Park into being.
Bruce tells the story of how Waypoint Park came into being, and how the community worked together to transform an ugly chain-link fenced-in property to a thing of beauty at the corner of 305 and Winslow Way.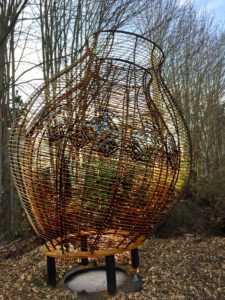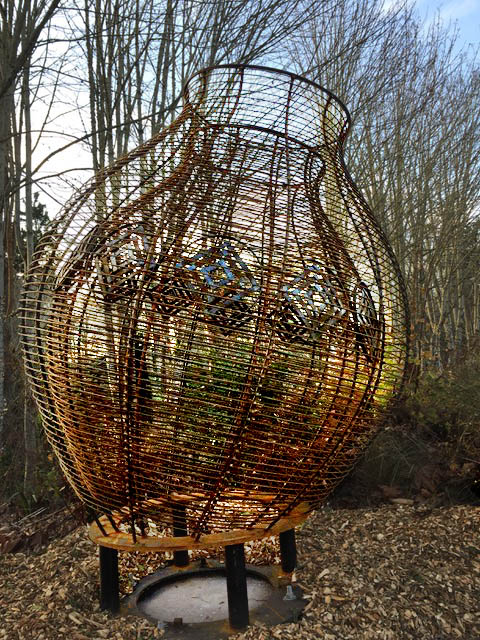 The Waypoint Park sculpture is the first new public art since the Public Arts Committee (and funding) were restored in 2014. Bill Baran-Mickle tells us how the restoration of the Public Arts program and its funding brought Christine Clarks's large metal sculptures here to grace Waypoint as the culmination of its place in this community.
Christine describes the inspiration and significance of the four large metal baskets, what the motifs represent, and how they honor BI's cultural heritage. Clark's four "Tribute Baskets" were dedicated at their new home in Waypoint Park on December 19, 2016.  For more about the story behind the Waypoint, see below:
___________________________________________________
In 2011, island resident Jim Chapel, set out to explore opportunities for improving this key geographic corner.  Jim and his friend, Steve Davis, talked with many community groups and individual citizens, eventually forming the Citizen's Park Task Force.  Although there was to be no public funding from the City, approvals and agreement had to be obtained from the City and from Kitsap Transit who owned the property, from BI Metropolitan Parks and Recreation District who would eventually manage and maintain the property, and from the Dept of Ecology to ensure that the plans for surface improvements were feasible in light of the residual oil contaminants that remain below the surface soil, and that the property would be safe for public use.
Ultimately, the Task Force raised over $300,000, and, combined with low or no-fee services provided by multiple community partners (including architects, builders, landscapers, individual citizens) who designed, moved ground, planted, built structures, almost 700 people and organizations came together to make the Waypoint a reality.  Over 500 islanders made individual cash contributions.
Clark's four metal sculptures, large baskets (6 feet to 9 feet tall) within baskets, each represent, in design and pattern, a cultural element that has been a significant part of Bainbridge Island history: Suquamish Native People, Scandinavian, Japanese, Filipino.  Simple motifs of these four cultures appear on the exterior and interior of the metal baskets.
Christine Clark is a professor at the Oregon College of Art and Craft in Portland, Oregon.  She teaches traditional metalsmithing and jewelry, and also focuses on installation art and abstract sculpture in steel, wire and mixed materials. Her exhibitions include permanent public art at Eastern Oregon University; and her work is also part of collections at Harborview Medical Center, and Portland Community College.
Clark was selected by a juried panel put together by the Public Art Committee administered by Arts & Humanities Bainbridge under contract with the City.  The Public Arts Committee's charge includes inventory and conservation of the current collection, and the design and implementation of new works.  This committee, first formed in 1989, was put on hiatus when the economy took a downturn in 2008.  It was resurrected in 2014 with the approval of the City.
"These exquisite vessels at the Waypoint are welcoming beacons that express our shared values of diversity and inclusivity," said Sandy Fischer, chair of the Public Art Committee.  "This piece adds to the island's growing collection of public art by regional artists.  We look forward to adding new works annually, funded by 2 percent for arts program that was approved by City Council in 2015."
Credits: BCB host: Channie Peters; BCB audio editor and social media publisher: Diane Walker.
---