Podcast: Community Cafe:
World-renowned author David Korten speaks to the Bainbridge community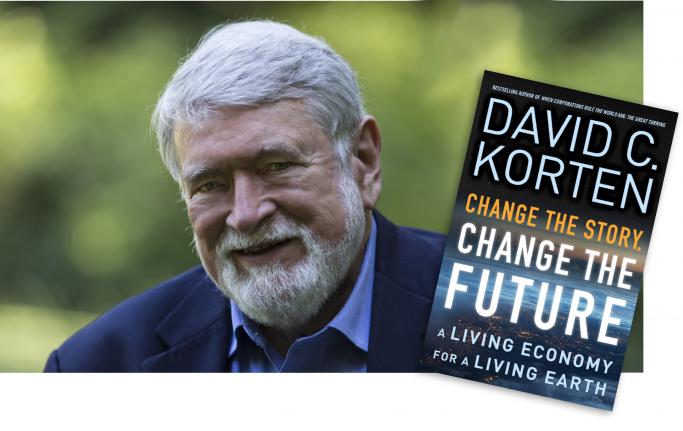 Listen to this in-depth 30-minute interview with Bainbridge resident and world-renowned author, David Korten, at BCB's studio.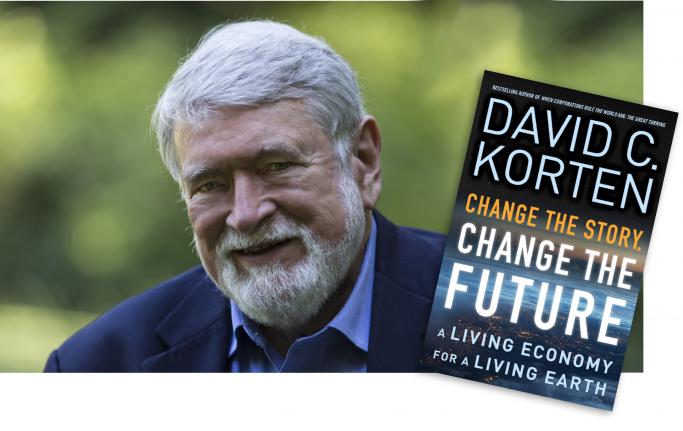 David discusses his just-published book: "Change the Story, Change the Future: A Living Economy for a Living Earth," available from Eagle Harbor Books.
The interview also reveals David's passionate commitment to local community. David expresses the many ways in which Bainbridge Island is, and could increasingly be, an outstanding example of a community seeking to achieve social and economic well-being — with locally owned main street businesses and city policies that preserve a healthy natural environment — rather than succombing to outside pressures for big-money exploits.
And David explains how one local Bainbridge nonprofit business, Yes! Magazine, is telling the stories of people and places that offer hope for change amidst the challenges of our times.
David Korten, an internationally-published author and engaged citizen, is co-founder and board chair of YES! Magazine, co-founder and co-chair of the New Economy Working Group, president of the Living Economies Forum. A 20th anniversary edition of his classic best seller When Corporations Rule the World will launch in June 2015. In 2010, motivated by the widespread harm caused by the Wall Street crash, he published Agenda for a New Economy: From Phantom Wealth to Real Wealth.
David's April 2006 talk to a standing-room audience at the Bainbridge Performing Arts playhouse, on his then-newest book: The Great Turning: From Empire to Earth Community, was the first event hosted by the then-new nonprofit, Sustainable Bainbridge.
David has MBA and Ph.D. degrees from the Stanford Business School, and in his earlier career served as a captain in the US Air Force, a Harvard Business School professor, a Ford Foundation project specialist, and has decades of fieldwork seeking economic development in countries such as Ethiopia, Nicaragua, Philippines, and Indonesia.
Credits: BCB host, editor and publisher: Barry Peters
---
---