Podcast: Bainbridge Island Specials:
Faith leaders speak up for climate change action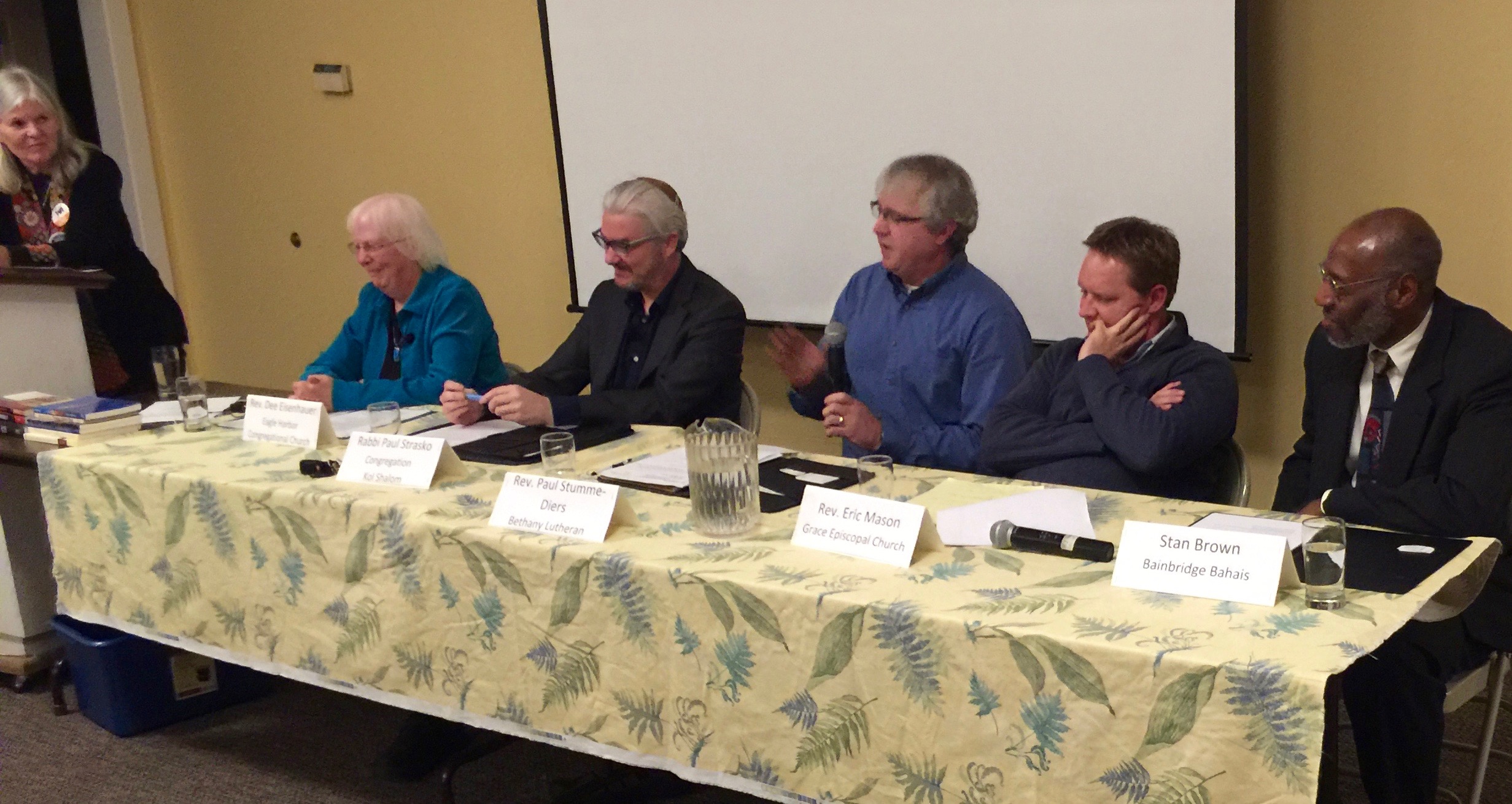 "Climate change is a problem that can no longer be left to a future generation." – Pope Francis.
The recent October 27th panel discussion by five local clergy — and their responses to the Pope's recent encyclical on climate change — help make us more aware how many clergy, especially on Bainbridge Island, have long spoken out about the importance of climate change action among their congregations and in public.
This podcast is a recording of "Faith and Climate Change — Do We Have a Moral Obligation to Act." That topic was answered in the affirmative by a panel of local clergy at Eagle Harbor Congregational Church on Bainbridge Island on Tuesday, October 27th.
The event was co-sponsored by the Interfaith Council of Bainbridge Island and North Kitsap, the Bainbridge Island Citizens' Climate Lobby, and Climate Action Bainbridge.
The podcast includes the following parts (which start at the timestamped moments in the podcast):
0:00 Event introduction – by Peggy Erickson, co-chair of Bainbridge Citizens' Climate Lobby
2:15 Introduction to clergy panel discussion, by Erika Shriner, board member of Climate Action Bainbridge, who moderated the clergy panel discussion
5:26 Question 1: What does your faith believe about humanity's relationship to the earth, and is there a moral imperative to care for the earth?
5:50 Response by Rev. Dee Eisenhauer, minister of Eagle Harbor Congregational Church, United Church of Christ
8:28 Response by Rabbi Paul Strasko, Congregation Kol Shalom
12:45 Response by Rev. Paul Stumme-Diers, Bethany Lutheran Church
15:15 Response by Rev. Eric Mason, Grace Episcopal Church
18:18 Response by Assemblyman Stan Brown, Baha'is of Bainbridge Island
20:30 Question 2: What has your faith community done, or planned to do, to incorporate climate action into your collective work and the lives of your members?
20:46 Dee Eisenhauer
23:30 Paul Strasko
26:48 Paul Stumme-Diers
29:30 Eric Mason
31:42 Stan Brown
33:45 Question 3: With lots going on, are we getting real results? How can we engage more people of faith to accept the science of climate change, and to act on it?
34:48 Dee Eisenhauer
37:43 Paul Strasko
42:10 Paul Stumme-Diers
44:56 Eric Mason
47:12 Stan Brown
51:51 Question 4: How do we mobilize massive numbers of people to do something constructive about climate change as soon as possible?
53:20 Dee Eisenhauer
54:40 Paul Strasko
55:24 Paul Stumme-Diers
56:08 Eric Mason
56:58 Stan Brown
57:45 Moderator closing remarks
58:51 Transition to presentations by climate change activists
59:05 How to share this BCB recording with your friends
59:40 Stacey Nordgren describes a Nov 18th workshop by EcoAdapt to enable the public to address climate change responses in the City of Bainbridge Island Comprehensive Plan update.
1:02:12 Dr. Michael Soman describes Citizens Climate Lobby
1:05:10 Brian Anderson describes Climate Action Bainbridge
1:09:11 Erika Shriner, describes Carbon Washington
1:12:42 Peggy Erickson wrap up, with mention of Earth Art Bainbridge.
Please note that, for your listening convenience, this recording of the 100-minute October 27 event was shortened to 73 minutes by eliminating the audience question session and editing the activist presentations.
Credits: BCB recording technician, audio editor and publisher: Barry Peters
---