Podcast: What's Up Bainbridge:
Saturday Dec 13 Jupiter planetarium show and telescope party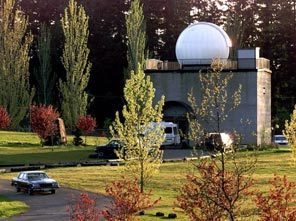 Get your head out — and way above — the clouds with this podcast of What's Up Bainbridge.
In this episode, BCB host Jason Goyette speaks with Steve Ruhl, the president of the Battle Point Astronomical Association.
On Saturday, December 13th at 7pm Steve will be presenting "Jupiter as a Star" — a 90-minute show at the planetarium at the Ritchie Observatory.
Afterwards, if the skies are reasonably clear, there will be a Star Party where adults and kids can look through the telescopes of astronomy club enthusiasts.
During the planetarium show, Steve will explore the role of the largest planet in our solar system. And he'll ask, hypothetically, if Jupiter had evolved into a star, what might have happened to Earth?
In this episode, Steve also mentions other activities – such as astronomy courses – that the Astronomical Association provides to residents of the island and beyond.
Past planetarium shows included "Did the Dinosaurs see Orion in their Night Sky?" and "Killer Rocks".
As well as being the president of the BPAA, Steve also enjoys Astrophotography when weather and lighting conditions are in his favor.
Planetarium shows are held once a month and are open to the public. A $2.00 donation is suggested for nonmembers, $5.00 for families.
More information on astronomy club activities and events can be found at the BPAA website at http://www.bpastro.org/
Credits: BCB host and studio tech: Jason Goyette; BCB audio editor and social media publisher: Barry Peters.
---
---