Podcast: What's Up Bainbridge:
BARNIVERSARY! Celebrate BARN's first year in their new building Saturday, May 12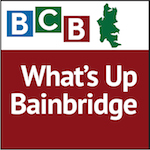 The Bainbridge Artisan Resource Network invites you to join them on Saturday May 12 to celebrate BARNIVERSARY: BARN's first year of service in their fabulous new building on Three Tree Lane.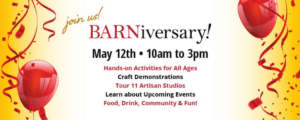 Listen here as BARN membership coordinator Carla Mackey tells us all about the exciting activities planned for the day. You'll want to bring the kids and tour the many BARN studios: there'll be craft demonstrations, work samples, tasty treats and much much more.
In addition to spaces in the BARN lot there will be overflow parking at the nearby Baptist Church at Madison and 305, with a shuttle running all day. So don't miss it: that's this Saturday, May 12th, from 10 -3.
Credits: BCB host/editor/publisher: Diane Walker.
---