BIHM offers Digitization Days May 18,19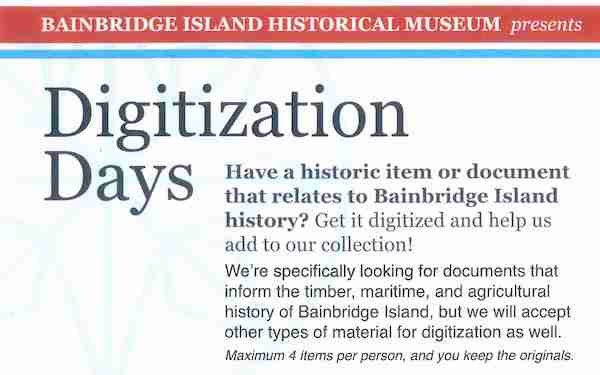 If you have historical documents pertaining to the history of Bainbridge Island, the Bainbridge Island History Museum can digitize them for you. Come to Digitization Days, May 18 and 19 at the Bainbridge Island Library.
In this podcast BIHM Executive Director Brianna Kosowitz shares with us about the Museum's upcoming Digitization Days at the library.
The Bainbridge Island Historical Museum (BIHM) has received a grant from the National Endowment for the Arts for a community digitization project to preserve the community's history while expanding the museum's collection. Now BIHM needs your help to preserve and build the island's history by sharing your family histories, artifacts, and documents their Digitization Days weekend event.
Museum staff and volunteers will be on hand to capture brief oral histories about your documents and artifacts and scan them on site so they can be added to the Museum's permanent collection. You'll go home with the originals and digital copies on a thumb drive as well!
The Museum is particularly interested in documents that inform the timber, maritime and agricultural history of Bainbridge Island, but will accept other types of materials as well; limit four items per person.
So don't miss Digitization Days, Saturday, May 18th 10AM-5PM & Sunday, May 19th 1-5PM. Questions? Please call the museum (206-842-2773).
Credits: BCB Host: John Fossett; BCB audio tech: Sandy Schubach; editor and publisher: Diane Walker.
---