27 Short Plays about Being Murdered in a Hotel by ABBA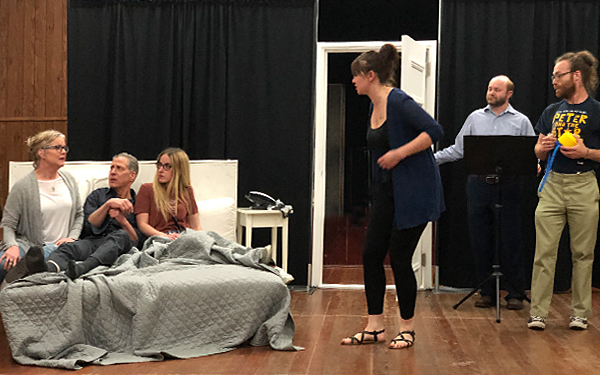 (L to R) Sarah Reynolds-Taylor and Jeff Brown are victimized by ABBA members Solomia Bishko, Amanda Pease, Jon Brenner and Kristopher Jones



Theater of the Absurd meets Swedish pop sensation ABBA: Be prepared to laugh as murder, mayhem, and infinite innuendo ensue in 27 Short Plays About Being Murdered in a Hotel by ABBA, opening May10 at Rolling Bay Hall.
Written by William Razavi and staged by The Lesser Known Players, ABBA is filled with sly cinematic references, offbeat humor, and just a trace of existential angst. In it a zany cast of characters, including a mad scientist, a motivational speaker, an itinerant citrus salesman, an illusionist, two British blue-bloods and a young samurai warrior meet their fates in an alchemy of the absurd that combines philosophy, literature, weaponry, and music into a whole new level of thought-provoking fun. (No worries; no ABBA music — the play features a suitably dark, ABBA-inspired original score by Seattle composer Jon Brenner, a sample of which you'll hear in this podcast.)
Join Host Justin Wayne Lynn as he chats with the ABBA cast and crew in search of answers to questions like "is this a true story?" and "what DOES happen when a Swede finds a Katana?"
27 Short Plays About Being Murdered in a Hotel by ABBA opens at  Rolling Bay Hall May 10th and runs through the 19th with shows Friday and Saturday at 7:30, Sunday matinees at 2:30, and a pay-what-you-can preview on Thursday, May 9. The playwright will be on hand to answer questions after the show May 10, 11 and 12. For tickets and information visit http://www.lesserknownplayers.org/.
Credits: BCB host and audio tech: Justin Lynn; audio editor and publisher: Diane Walker.
---