Podcast: What's Up Bainbridge:
Bloedel offers 12 free weeks of contemplative strolling for well-being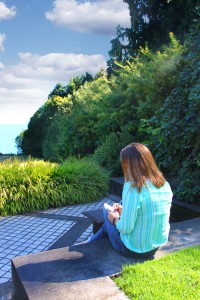 What could be better than strolling through the beautiful gardens at Bloedel Reserve? How about strolling with a 12-week program that improves well-being and enhances your outlook on life.
In this podcast, Bloedel's Communications & Outreach Coordinator, Erin Jennings, describes this 12-week free program.  The next 12-week session begins on September 9th with the first of three check-in meetings.
In the first meeting, participants will receive a beautiful workbook journal for writing or drawing in response to the self-guided contemplative walks in the book. There are 12 one-hour walks, which can be done anytime over the 12 week session. Participants who are not currently members of Bloedel will receive a complimentary 3-month membership for the duration of the program.
Erin agrees that this program is like a guided meditation or contemplation through exquisite natural beauty. How could we not benefit from this?
If you are interested in more information, go to the Bloedel "Strolls for Well-Being" web page. To register, email Erin Jennings or call her at 206-842-7631 ext. 19.
Credits: BCB host: Channie Peters; BCB editor and social media publisher: Barry Peters.
---
---